The Secret Ingredient: Miss Emily's Blue Bee Bar
Finding an open space to draw a simple heart will take you some time as the walls are completely covered by visitors who have traveled across the globe to try the world famous Goombay Smash. Mrs. Violet Smith, the current owner of the popular watering hole and the daughter of Miss Emily, who has since passed away, sits opposite me, eager to share the story of the popular local spot and the drink that has attracted thousands of visitors.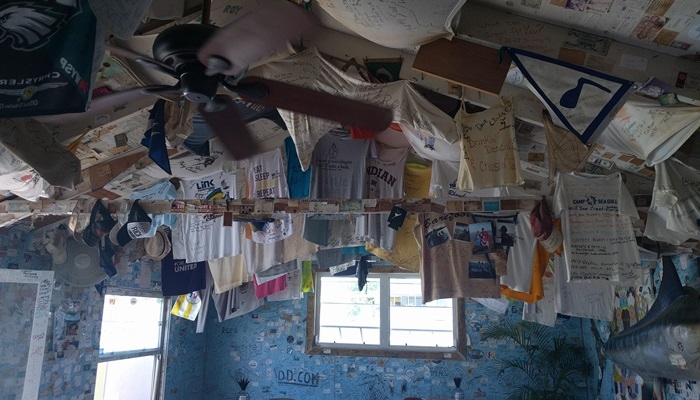 She smiles nervously before beginning her story of how the Goombay Smash came to be. "It was a rainy day and the boys were in the yard playing dominoes while my mom sat inside mixing ingredients. She went outside asking the boys to try her invention, one of them called Brendal exclaimed, 'Miss. Cooper, that is very good.' Miss Emily Cooper, the inventor of Miss Emily's Goombay Smash, was no drinker, having never sipped an alcoholic beverage in her entire life. She was also allergic to pineapples and had never tasted her invention. Who would have guessed in a million years that the inventor of the world-famous Goombay Smash had never, in fact, even sipped of her own concoction?!
Miss. Emily, instead, was a hardworking Bahamian woman who decided one day to experiment with ingredients, unaware at the time that her drink would later become synonymous with The Islands of The Bahamas. Mrs. Violet continues with a glisten in her eye, "Mommy continued to fool around, trying to perfect it and the way she would serve it. She first started with the cups, putting two cups together and shaking them but she remarked it was taking too long. Then she tried to mix it with the bar glasses with a metal shaker on the bottom and a plastic cup on top, which worked for a while until she got even more creative and began to make it in the gallon bottle and ever since she's been the maker of the famous smash."
At this point, one could vividly picture Miss Emily standing in a kitchen, putting ingredients together, throwing her love into the mix and creating a soul drink. A soul drink, quite unlike the usual soul food which Bahamian matriarchs are known for, but equally as compelling. Mrs. Violet interrupted my thoughts painting a colorful image of Miss Emily, "When mommy shook that gallon, her waist line moved in rhythm with the bottle. That smash was made with love." I appreciated this thought, it supported the imagery of Miss. Emily that I had already formed in my head.
Timeless is the best way to describe the interior of Miss Emily's. It's true that most establishments grow with the time, but Miss Emily's has a feel about it which indicated it was free of change. The popular bar has been a staple in Green Turtle Cay for more than 60 years with Dennis Cooper, Miss Emily's husband, first managing it. It was Dennis who named the bar after his beautiful wife Miss Emily and the blue bee fish. After Dennis had passed, Miss Emily took over and managed it up until her passing. Today, Mrs. Violet and her husband manages it much to her surprise. "It is amazing mommy died 21 years ago and I thought when Emily died, the excitement would die. But here we are, and I thank God for it."
For years, tourists and locals alike have wondered where the name Goombay Smash derived from. Some like myself have attributed it to the popular Bahamian soda, Goombay Punch, but five minutes with Mrs. Violet quickly changed that thought. "During the time mom had first made the drink, there was a Goombay Summer Festival being held in Treasure Cay and Brendal had suggested to mom that she should name the drink after that." At the time, Miss Emily's Blue Bar had a specialty drink named the Blue Bee Special which was a mixture of coconut rum and carnation milk but with the creation of the Goombay Smash, this soon disappeared.
The origins of Goombay Smash are widely unknown although Mrs. Violet admitted that there were a few mixtures that were similar, but these mixtures went by another name until Miss Emily donned her drink, the Goombay Smash. Today every bar in The Bahamas sells a variant of this drink, but no one quite like Miss Emily's. There's a secret ingredient in Miss Emily's Goombay Smash and they won't tell you, but my guess is the secret lies in the way Miss Emily's hips moved as she shook the drink to mix it, a secret shake she has passed on to dear Violet.
Whatever the secret ingredient is, no one has quite replicated Miss Emily's drink and all the better. Now you have a reason to visit New Plymouth in Green Turtle Cay, which is a short ferry ride from the mainland of Treasure Cay. It was one of the earliest settlements in Abaco that was founded in 1786. Its rich history is seen as far as 100 yards from the dock as you slowly approach on the ferry. Pastel wooden houses line the narrow streets, home-made street signs indicate where you are, and the truth is, no matter how far you've driven you'll always find yourself right back in the center of things in New Plymouth.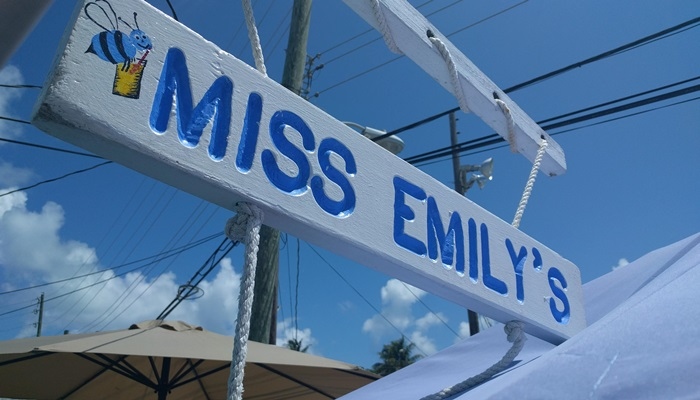 If you find yourself wondering how to take Miss Emily's home to share with your family and friends, inquire about the Hairline bottle which is available for purchase for $85. It features all the ingredients including that secret ingredient, the only thing missing is the pineapple juice which can be added whenever you're ready to unlock The Islands of The Bahamas.