The Island
Quiet, serene, and hilly, Ragged Island isn't nearly as rough as its name suggests. The island is a haven for avid fishermen, with its unparalleled flats ideal for bonefishing. It's not uncommon to snag an abundance of grouper, snapper, barracuda, tuna, and kingfish during a one-day expedition on the water or meet a local boat builder while kicking around Duncan Town.
Island Insider
The Highlights

A Chain Of Islands
Great and Little Ragged Island lie at the end of a chain of islets, cays, and rocks that stretch over 100 miles. All you need is a boat, and the uninhabited cays are yours to explore.
The Highlights

Three Religions. One Roof.
The community in Ragged Island is small and tight-knit. In fact, because the population is so small, members of three different religious denominations gather at the same church on Sundays, to celebrate together.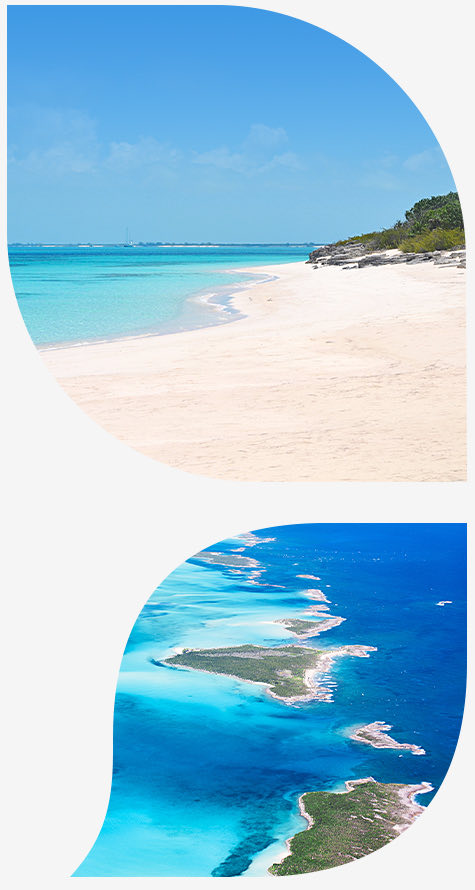 The Highlights

A View For Every House
Ragged Islanders are a hardy, seafaring people, who build boats, booms, and masts for sailing sloops, race boats in regattas, and fish. They love the sea so much that nearly every home is built to have a breathtaking view of the ocean.
The Highlights

Duncan Town
One lighthouse, one harbour, and a salt pond that stretches the length of Duncan Town, Ragged Island's one and only settlement. Residents still harvest salt from their family plots.
Island Resorts & Retreats

Where to Stay
Hotels
FEATURED
To visit Ragged Island, most travellers stay in nearby Long Island and venture over for a day, via boat or charter flight.
View All
Things to do
Things to Do

Hop From
Cay To Cay
The surrounding Jumentos Cays offer a ready-made island hopping itinerary for curious travellers. If you've dreamt of having a private beach, or even a private island, all you need is a boat.
Learn More
Things to Do

Build A Bonfire
Just north of mainland Ragged Island lies Hog Cay. Its sandy shores are popular with Ragged Islanders, perfect for all-day picnics and celebrations, including a famous annual Valentine's Day celebration. Spend the day on the cay, and end it with a bonfire on the beach.
Pigeon Cay is visible off the coast of Ragged Island near Gun Point. Look for the memorial cross honoring Henry Norris Churton, Bishop of Nassau, who died at sea when his boat capsized in 1904.
Fresh Island Flavours

Drinks & Dining
Restaurants
FEATURED
Join People-to-People volunteers for a taste of favourite local dishes like grilled and steamed fish, cracked conch, fresh free-range mutton, and turtle soup.
View All
map
Ragged Island
Duncan Town Airport
The Duncan Town Airport is the only airport servicing Ragged Island.
Find a Flight
Hog's Cay
Venture north of Ragged Island to beautiful shores that have welcomed boaters for years. Hog Cay is a great ecotourism destination that offers plenty of birdwatching opportunities, bonfires, and romantic picnic spots.
Discover Your Next Adventure