"I open at 11:30, and I close
whenever I feel like it."
Tony Hanna, also known as Tony Macaroni,
has earned that right. Since 1992, his conch
shack has remained on the same spot,
overlooking Taino Beach.
PLAY INTERVIEW
The main course: fresh conch, served up exactly the way Tony likes it—straight out of the ocean.
- .
Most people end up here for the conch burgers, the homemade hot sauce, or even the weekly live jazz on the beach.

The reason they return, year after year?
That's all Tony.
Freeport - Grand Bahama Island
West End
West End is the oldest and westernmost settlement in Grand Bahama Island. Located only 55 nautical miles from the Florida coast, it is the first Port of Entry for boaters crossing over.
East End
East Grand Bahama is home to Lucayan National Park, its beautiful Gold Rock Beach, and a handful of cays including Sweeting's Cay.
Peterson Cay
Located just off the coast of Grand Bahama Island, Peterson Cay is a protected National Park managed by the Bahamas National Trust.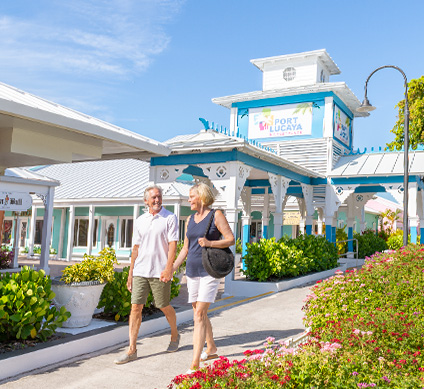 Freeport
Grand Bahama's commercial hub, Freeport welcomes international visitors via the Grand Bahama International Airport as well as Port Lucaya, the second-largest cruise port in The Bahamas.
Grand Bahama International Airport
Located in Freeport, the Grand Bahama International Airport is the second airport in The Bahamas with US Border Preclearance facilities. It welcomes international flights, as well as domestic flights to Nassau and Bimini.
Find a Flight
Discover Your Next Adventure
PLAY Interview
Anthony Hanna, "Tony Macaroni"