The Island
Beaches, Blue Holes &

Breathtaking Cliffs
Brilliant coral reefs, pristine flats and serene beaches make Long Island a haven for fishing, diving, and boating. Boasting world-class bonefishing and thrilling encounters with sea life, this tranquil island offers a few inland surprises, including Dean's Blue Hole, the third deepest blue hole in the world, and St. Mary's Roman Catholic Church, the oldest church in the country.
Island Resorts & Retreats

Where to Stay
Hotels
FEATURED
From family-owned and -operated villas to boutique beachfront inns, lodging on Long Island provides a peaceful respite between plentiful island adventures.
View All
Island insider
The Highlights

Dean's Blue Hole
hirdTucked beneath the cliffs of Long Island's shore, Dean's Blue Hole is the third deepest blue hole in the world. A popular site for free divers who plunge into its depths and day-trippers who soak it all in from the white-sand beach. The annual International Free Diving Competition takes place here.
Learn More
The Highlights

Contrasting Coastlines
Long Island's eastern coast is wild and untamed. Here, dramatic cliffs and caves face the crashing waves of the Atlantic Ocean. On the western lee side, quiet sandy beaches slope gently into the Bahama Bank, creating the perfect swimming conditions.
The Highlights

A Historic Landfall
Columbus Point on Long Island's northern tip marks the shore where Christopher Columbus made his landfall on the island. A towering monument, and spectacular views, can be found atop the hill.
Learn More
The Highlights

Twin Churches
Two similar twin-towered churches in Clarence Town are credited to Father Jerome Hawes. St. Paul's Church was built when he was an Anglican priest; St. Peter's & St. Paul's Church was designed after he became Roman Catholic. Both are historic must-sees.
The Highlights

Survey The Shores
Long Island beaches are as varied as the coast is long. On the western shore, find calm and quiet white-sand beaches, including the stunning Cape Santa Maria Beach. On the eastern Atlantic shore, at Stella Maris, pink sands contrast with the wild Atlantic waters and natural pools dot the coast.
Learn More
Things to do
Things to Do

Fight The Good (Fishing) Fight
The fishing is good on Long Island year round. No more than a few minutes off-shore, you'll find marlin, tuna, and wahoo. Come prepared for a fight, these prize catches won't give in so easily.
Learn More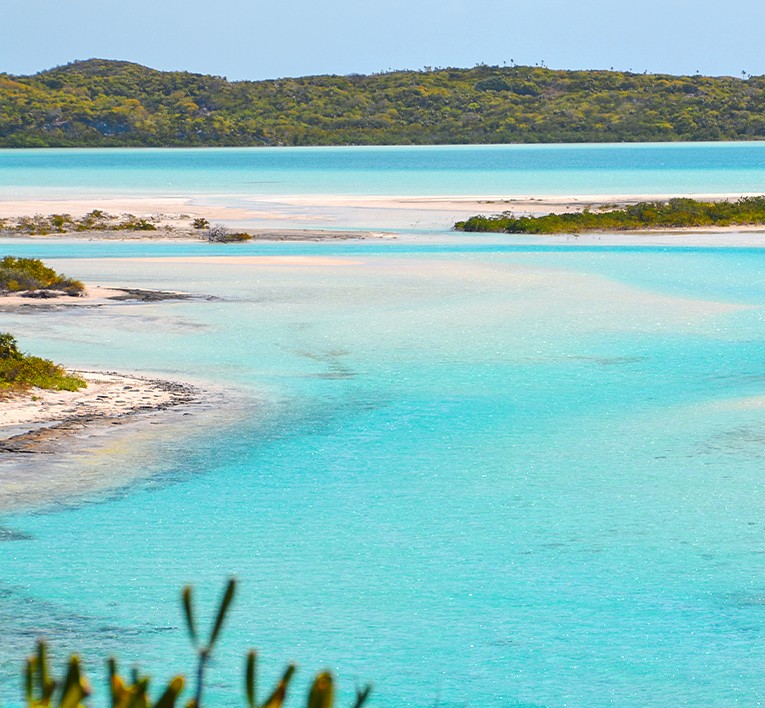 Things to Do

Escape For A Day
Conception Island National Park is a short, breathtaking boat ride from Long Island. Sail through stunning blue waters, snorkel the healthy reef, even explore historic ruins on this uninhabited national park.
Learn More
Things to Do

Raise The Sails
Traditional Bahamian-built sailing boats, or sloops, and their crews compete for the win in the annual Long Island Regatta. The June event draws crowds of 500+ spectators, and honours two timeless Bahamian traditions: boat building and friendly competition.
Things to Do

Hamilton's Cave
This ancient cave system is the largest in The Bahamas, with 50-foot wide passages, and over 10-foot ceilings. It's believed Lucayan Indians lived here about 500 A.D. Their artefacts and cave drawings were discovered in 1935.
Things to Do

Dive Into Colour
Home to one of the oldest dive operations in The Bahamas, Long Island is a diver's dream. Shallow reefs along Grouper Valley give beginners a colourful introduction. Advanced divers can explore the Comberbach wreck, the blue hole, or nearby coral walls.
Learn More
Fresh Island Flavours

Drinks & Dining
Restaurants
FEATURED
Casual dining on Long Island highlights a Bahamas favourite: conch in all its forms. One of the local specialties, mutton, is celebrated in the annual Mutton Fest.
View All
map
Long Island
Clarence Town
The capital of Long Island is a quiet town, home to the iconic twin churches founded by Father Jerome Hawes. It is serviced by the nearby Deadman's Cay Airport.
Deadman's Cay Airport
An official Port of Entry with Customs & Immigration, Deadman's Cay Airport serves Clarence Town, Long Island's capital.
Find a Flight
Stella Maris Airport
Serving the northern end of Long Island, the Stella Maris Airport connects to Deadman's Cay Airport, on the same island, and Nassau. It is equipped to welcome international visitors with Customs and Immigration.
Find a Flight
Discover Your Next Adventure