The Island
A place where Ernest Hemingway's favourite seaside hideaway meets the Lost City of Atlantis, and pristine beaches lead to waters teeming with prized blue marlin. 50 miles from Florida's eastern coast, Bimini exists in a world of its own.
Island Resorts & Retreats

Where to Stay
Hotels
FEATURED
Steps from the turquoise sea, visitors to Bimini find island charm and modern comfort in waterfront accommodations ranging from upscale resorts to boutique hotels and marinas.
View All
Island insider
The Highlights

North & South Bimini
A little-known fact is that Bimini actually comprises two islands: North & South Bimini. Commercial and charter airlines fly into South Bimini Airport, and visitors then ferry to North Bimini.
The Highlights

Colourful Dolphin House
Peek into poet-laureate Ashley Saunders' dream world. The Dolphin House Museum is Saunders' home in Alice Town, which he's built with seashells and sea glass and colourful recovered materials—an evolving work of art and a tribute to the ocean.
The Highlights

The Mysterious Bimini Road
Off Bimini's northern coast lies this curious underwater rock formation: giant boulders, neatly laid. Rumor has it, the stones were once part of the legendary Lost City of Atlantis.
Learn More
The Highlights

Famous Fans
Among Bimini's big-name visitors: Ernest Hemingway, whose two-year stint inspired his Pulitzer Prize-winning novel The Old Man and the Sea, and Martin Luther King Jr., who penned parts of his Nobel Peace Prize acceptance speech on Bimini's shores.
The Highlights

Something About The Water
The search for the fabled Fountain of Youth once brought explorer Juan Ponce de León to South Bimini. Today, a naturally-carved limestone well by the same name can be found near the airport, while the mineral-rich waters of the Healing Hole draw visitors to its secluded location in North Bimini.
Learn More
Fresh Island Flavours

Drinks & Dining
Restaurants
FEATURED
A fresh take on Bahamian cuisine. That is, fresh-as-can-be seafood and freshly baked Bimini Bread.
View All
map
Bimini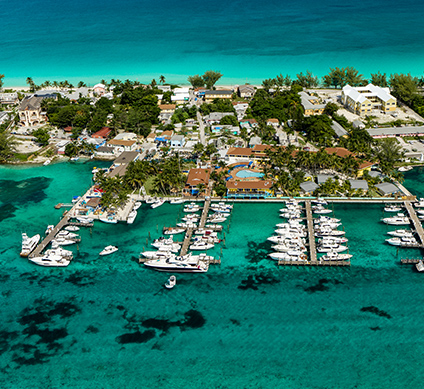 Alice Town
Located in North Bimini, Alice Town is the hub of tourism activity on the island, home to most hotels, restaurants and many points of interest.
South Bimini
The quieter of the two islands, most visitors fly into South Bimini Airport and continue onto North Bimini via ferry.
North Bimini
North Bimini
The location of Bimini's largest settlement, Alice Town, as well as a majority of accommodations. There are multiple official ports of entry, including a seaplane base.
South Bimini Airport
Bimini's primary gateway, the South Bimini Airport welcomes international as well as domestic flights.
Find a Flight
North Bimini Airport
A seaplane base located in North Bimini, the North Bimini Airport is an official port of entry with Customs and Immigration.
Find a Flight
Discover Your Next Adventure