If you ask Ashley Saunders—author, artist, historian, and fifth-generation Biminite—why he started building Dolphin House, he'll tell you.
The artist in me was asleep… and the dolphins woke him up.
-
Nearly 30 years later, Dolphin House stands as an ever-changing mosaic; a living, breathing art piece that tells a unique story of Bimini—infused with equal parts pride, passion, and creativity in every meticulously placed tile, every recycled rum and beer bottle, every fragment of hardened coral rock and sea glass. 
Bimini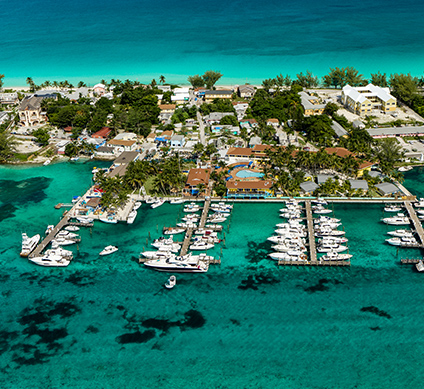 Alice Town
Located in North Bimini, Alice Town is the hub of tourism activity on the island, home to most hotels, restaurants and many points of interest.
South Bimini
The quieter of the two islands, most visitors fly into South Bimini Airport and continue onto North Bimini via ferry.
North Bimini
North Bimini
The location of Bimini's largest settlement, Alice Town, as well as a majority of accommodations. There are multiple official ports of entry, including a seaplane base.
South Bimini Airport
Bimini's primary gateway, the South Bimini Airport welcomes international as well as domestic flights.
Find a Flight
North Bimini Airport
A seaplane base located in North Bimini, the North Bimini Airport is an official port of entry with Customs and Immigration.
Find a Flight
Discover Your Next Adventure