Preserving
a natural
treasure
SOME CALL IT A SANCTUARY,
tucked far away from the prying eyes of the city.
Others, a naturally occurring museum. One that brims with
one-of-a-kind pieces, from verdant gems to shorelines made of gold.
The truth is, Lucayan National Park is a little bit of everything.
Part
Gallery
Playground
Lush Tropical Refuge
Nowhere
else
in The Bahamas do the country's diverse vegetative zones co-exist the way they do here.
Take a walk on the seemingly endless stretch of sand during low tide, catch a rare parrotfish sighting in Ben's Cave, or let your curiosity guide you somewhere else.
Freeport - Grand Bahama Island
West End
West End is the oldest and westernmost settlement in Grand Bahama Island. Located only 55 nautical miles from the Florida coast, it is the first Port of Entry for boaters crossing over.
East End
East Grand Bahama is home to Lucayan National Park, its beautiful Gold Rock Beach, and a handful of cays including Sweeting's Cay.
Peterson Cay
Located just off the coast of Grand Bahama Island, Peterson Cay is a protected National Park managed by the Bahamas National Trust.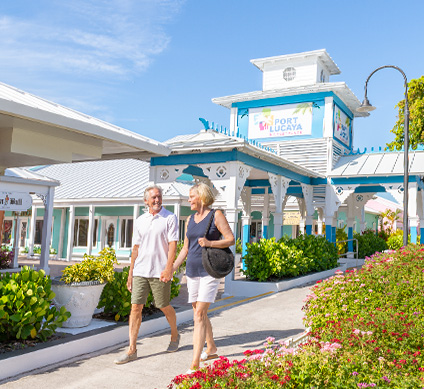 Freeport
Grand Bahama's commercial hub, Freeport welcomes international visitors via the Grand Bahama International Airport as well as Port Lucaya, the second-largest cruise port in The Bahamas.
Grand Bahama International Airport
Located in Freeport, the Grand Bahama International Airport is the second airport in The Bahamas with US Border Preclearance facilities. It welcomes international flights, as well as domestic flights to Nassau and Bimini.
Find a Flight
Discover Your Next Adventure
PLAY Video
Preserving A Natural Treasure