Guardians of
the Hidden Coast
Surfer's Beach, Eleuthera Surfer's Beach is off the beaten path. That's for sure. Roads can be tricky. Sometimes there's a sign. Sometimes no sign. But you won't have any trouble finding it. Just ask—a local, a stranger—they'll tell you where to go and who to ask for when you get there.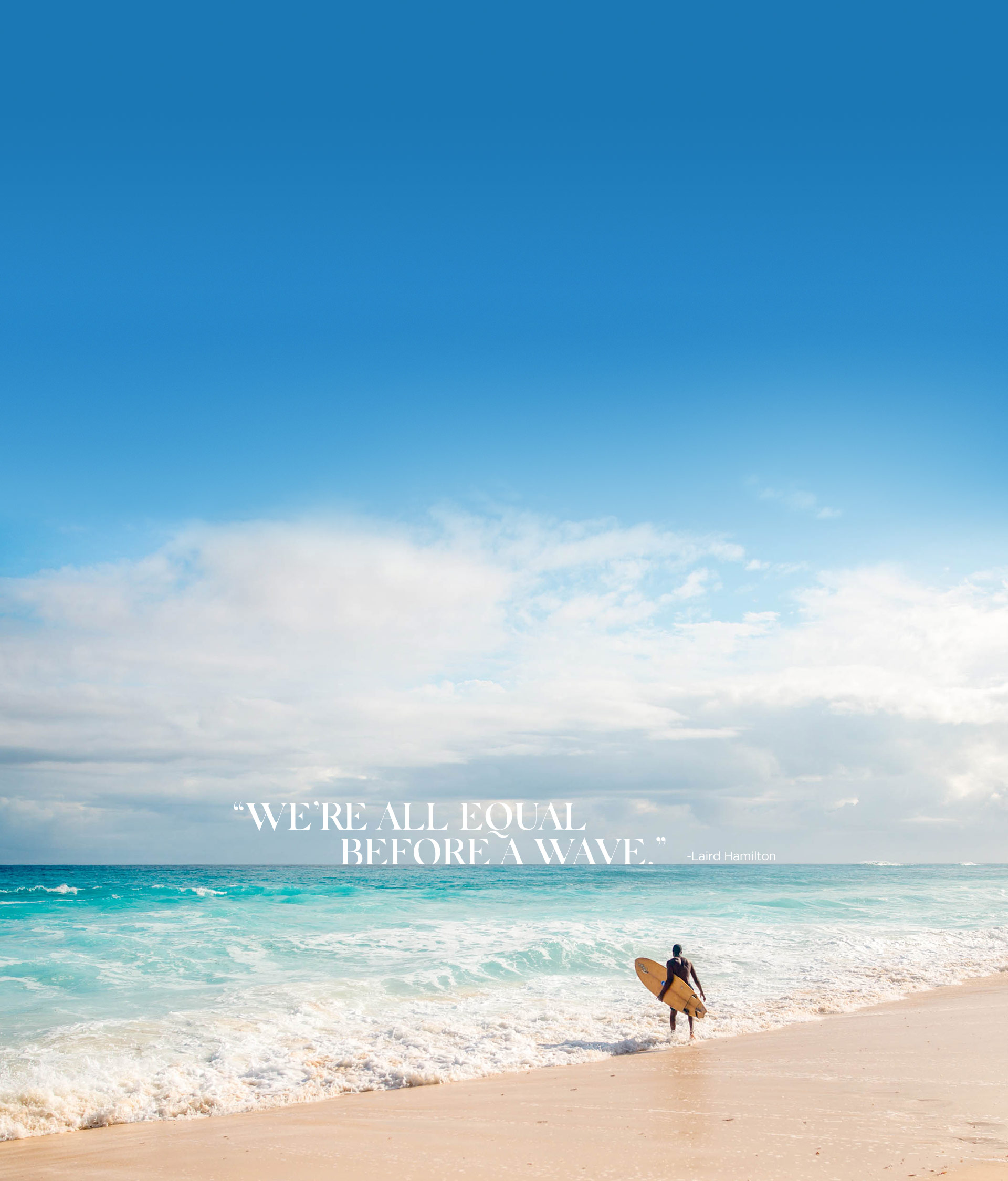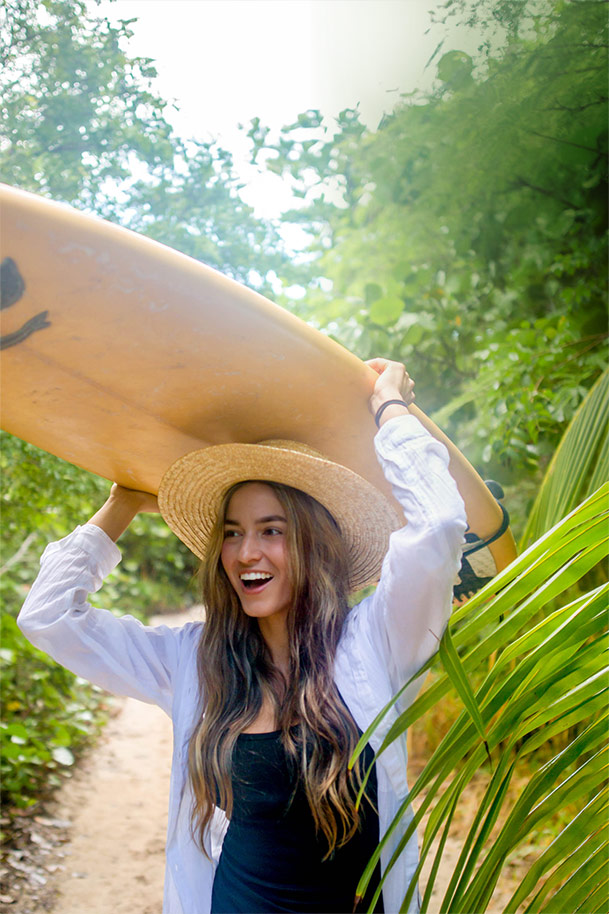 That first
great wave of
the day is yours
if you want it.
The local surfers here are generous, perhaps more generous with their waves than anywhere else in the world. Men like Tattoo, Rat Dog, Surfer Pete, they are the unofficial ambassadors of Surfer's Beach. They are its caretakers. They eagerly take the role of surf instructor, lifeguard, and friend to visitors who have found themselves in the presence of waves that seem too big to belong here.
MEET
SURFER PETE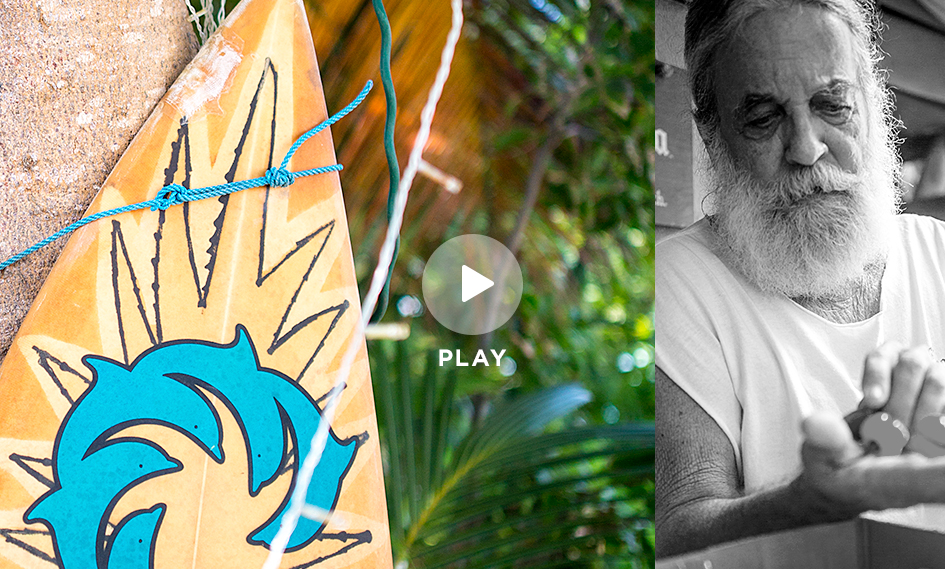 Surfer Pete and his wife Rebecca run a little-bit-of-everything store, locals call it the mall. They sell their famous Pirate's Revenge hot sauce, which you can find in hotels all across the island, as well as jams, artwork, and about fifty other things. Theirs is just about the only surf shop on the Eleuthera where you can rent surfboards, boogie boards, snorkeling gear, or hire Pete himself to give you surfing lessons. Pete doesn't have an official website, but people seem to find him anyway.

Eleuthera &
Harbour Island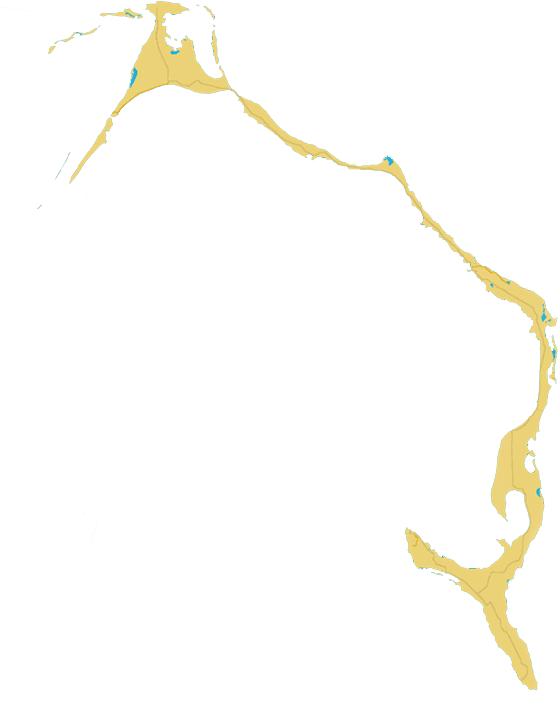 Star Island
Star Island
Star Island is a uniquely sustainable island destination, where off-grid technology is used to power the whole island. Star stands for Sustainable Terrain And Resources.
North Eleuthera International Airport
North Eleuthera International Airport serves the northernmost part of the island, as well as the neighboring Harbour Island and Spanish Wells, with domestic and international flights.
Find a Flight
RSD
Located in South Eleuthera, the Rock Sound Airport welcomes domestic and international travellers, as an official Port of Entry.
Find a Flight
South Eleuthera
South Eleuthera
Rock Sound is the largest settlement of South Eleuthera, and the location of the Rock Sound International Airport.
Spanish Wells
A quiet colonial town located in St. George's Cay, a ferry ride away from mainland Eleuthera. Today, the picturesque village is a popular destination.
Learn More
North Eleuthera
North Eleuthera
The beaches in North Eleuthera stand out for their rose coloured sands. Visitors staying in Harbour Island or Spanish Wells often fly into North Eleuthera Airport.
Harbour Island
Harbour Island
Quiet and picturesque, Harbour Island is accessible only by ferry or boat from mainland Eleuthera. The colourful colonial architecture has earned it the nickname, the 'Nantucket of the Caribbean'.
Eleuthera
Eleuthera measures 180 km long, and little more than 1.6 km wide in certain spots. It's home to fertile farmlands, rocky shores, and undiscovered pink sand beaches.
Central Eleuthera
Central Eleuthera
Central Eleuthera is home to two of the island's largest settlements—Governor's Harbour and Gregory Town, the site of the Pineapple Festival.
Governor's Harbour Airport
Eleuthera's Governor's Harbour Airport is located a few miles outside of the town by the same name in Central Eleuthera. It welcomes international as well as local flights.
Find a Flight
Discover Your Next Adventure