Travis Robinson
Parliamentary Secretary of Tourism & Aviation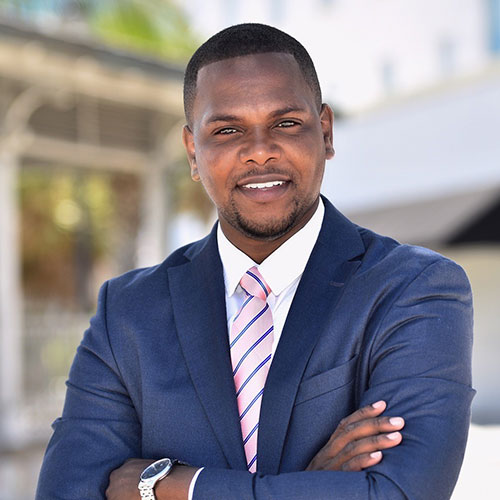 At the age of 22, Travis L. Robinson became the youngest elected Member of Parliament in the history of The Bahamas and the Caribbean Community (CARICOM). Mr. Robinson, who represents the Bain and Grants Town constituency in Nassau, Bahamas currently serves as Parliamentary Secretary in the Ministry of Tourism and Aviation. He is the founder of Rising Star Organization, an elite male mentorship organization designed to train, empower and equip young male student leaders with the tools to become world changers.
A recipient of the One Young World Politician of the Year Award, The Hague, Netherlands, 2018, Mr. Robinson holds a Bachelor of Science Degree in Tourism Management from The University of The Bahamas. He served as Senator for the Culinary Hospitality Management Institute and was elected Senate Speaker during his tenure, and also served as Presidential Advisor. The young entrepreneur is the founder and owner of Consult Tourism Bahamas Ltd., a local consulting firm for tourism related services.
Having completed a course for young political leaders worldwide, Mr. Robinson served as an Ambassador for the International Visitor United Nations (UN) Most Influential People of African Descent Class of 2019.
He is currently pursuing a Master's of Arts Degree in International Tourism and Aviation. His most valuable nugget is: "Do not down-grade your dreams to match your reality. Upgrade your faith to match your destiny."
download pdf