Official Home Of

The Swimming Pigs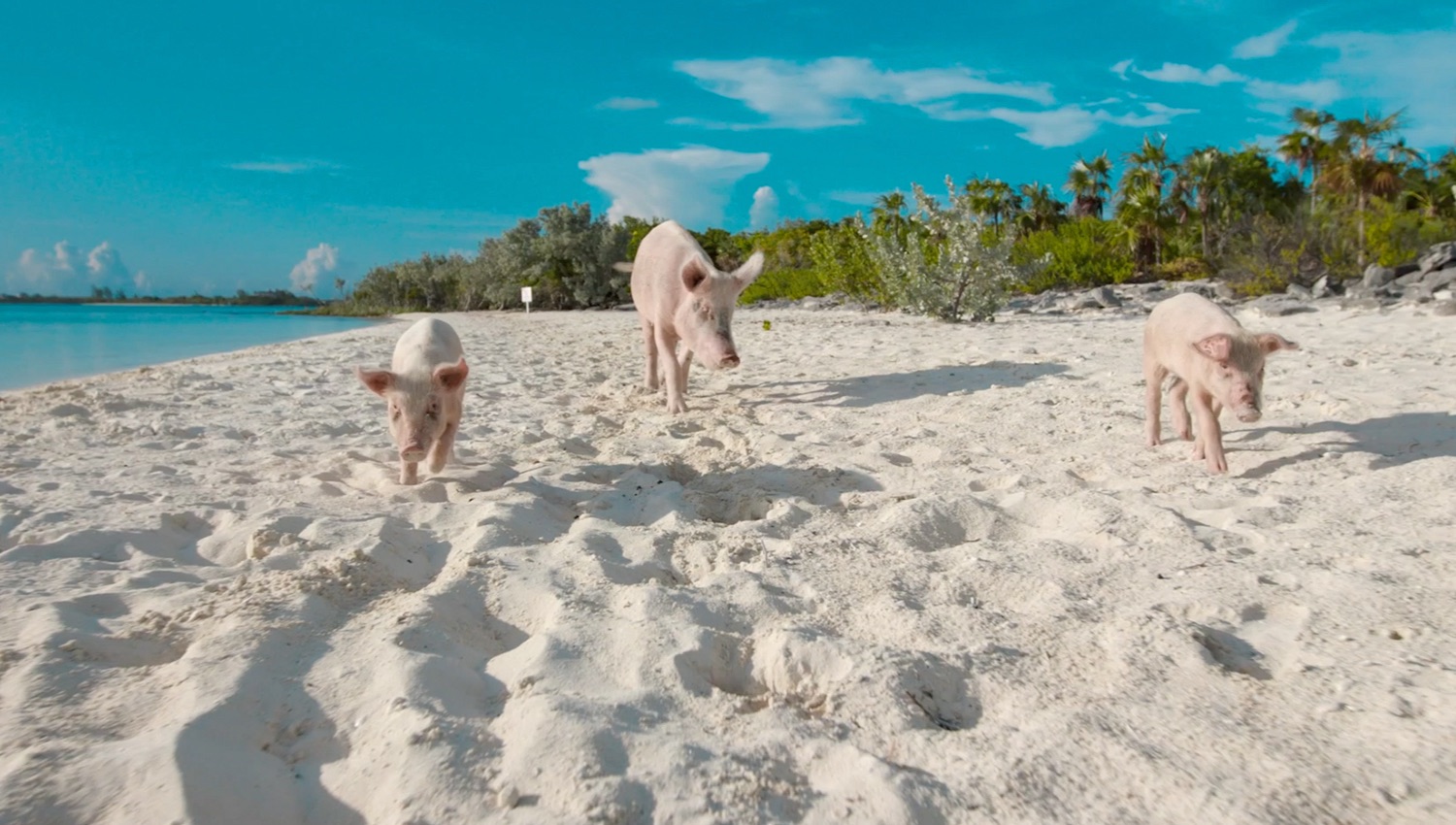 Meet Exuma's Adorable and Famous Swimming Pigs
This is one experience you simply can't miss while you're here. Wondering how the pigs got to Pig Beach? We don't know for sure. Big Major Cay is uninhabited and the pigs are not native to the island. Some say they were left by a group of sailors, who planned to come back and cook them. Or that the pigs swam over from a shipwreck nearby. Wherever they came from, there are now about 20 pigs and piglets living the easy life, with daily visits from Bahamians and tourists. When you visit, be sure to get a selfie with the #swimmingpigs—they're even cuter in person!
Ready for Your Swimming Pigs

Adventure Tour?

If you're staying in Nassau or The Exumas, you can easily book a day trip to see the swimming pigs. Your adventure includes a boat tour through The Exuma Cays.
A day in the exumas
Compass Cay

Swim With Nurse Sharks

Visit the docile nurse sharks at Compass Cay. Dip into the water to swim alongside them, or pet their skin when they swim up to the dock during high tide.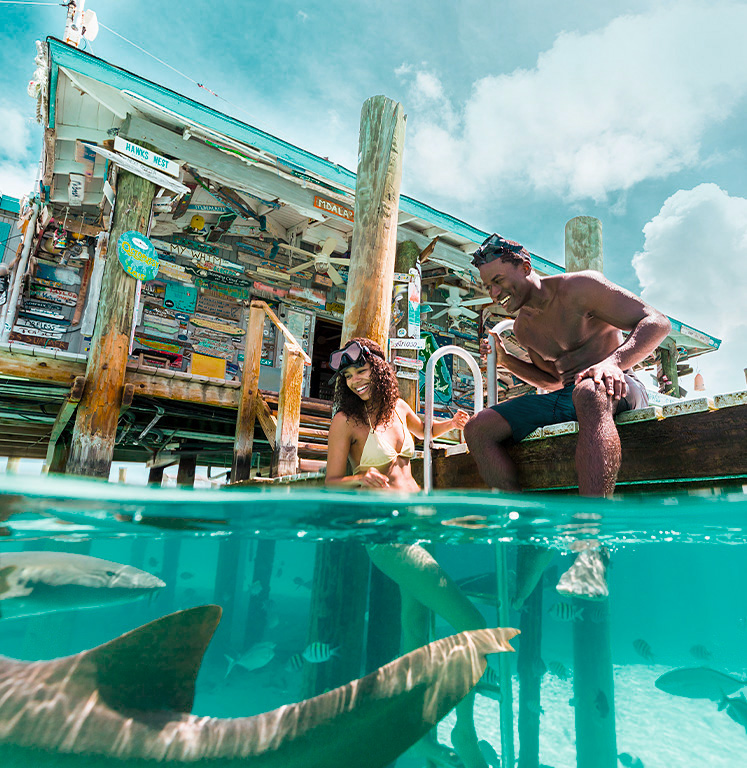 Stocking Island

Pet a Stingray and See The Stars

This small, long and narrow island is home to wild but very friendly stingrays and abundant starfish on aptly named Starfish Beach.
Blow Hole Cay

Visit Blow Hole Beach

This tiny, uninhabited stretch of sand takes its name from the blowhole created by waves on the island's other side.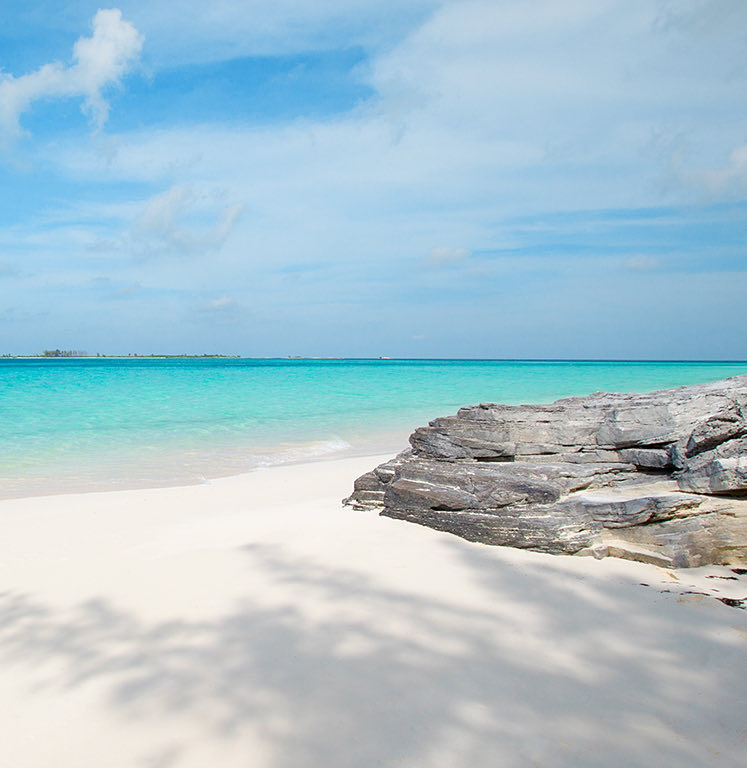 Bitter Guana Cay

Feed Bahamian Rock Iguanas

An endangered and protected species, these colourful and friendly creatures can live up to 40 years!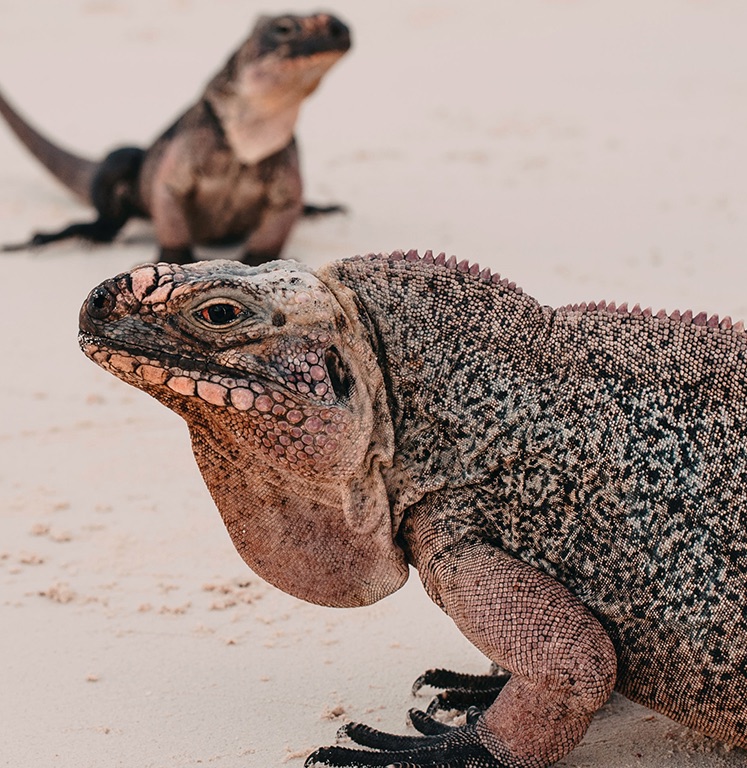 Staniel Cay

Stop for lunch

Head to Staniel Cay Yacht Club for fried conch fritters, rum punch, and famous Staniel Cay lime pie.

Learn More
Big Major Cay

See the Pigs

The highlight of any day in the Exumas, these playful swine will welcome you with squeals and surprisingly large appetites.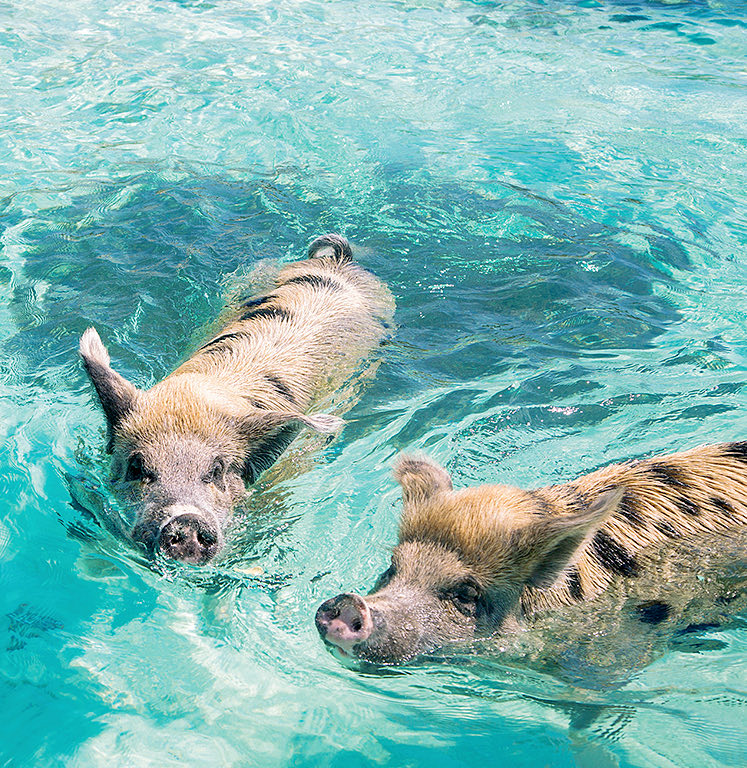 Thunderball Grotto

Snorkel in Underwater Caves

One of the most popular snorkelling spots in The Exumas, this cave system is a thrill for all ages.

Learn More
Explore The Exumas
Looking for a true tropical paradise? Visit The Exumas for the ultimate escape. There's so much more than just the pigs. See why the world's most famous stars visit The Exumas again and again. 
Visit The Exumas Travel Guide
No Trip To The Exumas Is Complete Without...
Spend a night in Georgetown at a historic hotel
Learn More
Take a powerboat trip and see the pigs
Take the water taxi to Stocking Island for amazing fresh conch
Learn More
Discover a secret sandbar, somewhere between cays
Eat a whole fish at Eddie's Edgewater Grill
Learn More
Frequently asked Questions

Taking care of the swimming pigs
In The Bahamas, we value our swimming pigs, and it takes a community effort to look after them.
Referred to as dedicated custodians of the swimming pigs, Bernadette Chamberlain and her husband John, restauranteurs on Staniel Cay, helped to establish several measures to keep them healthy.
The Chamberlain's are among other locals who are devoted to ensuring the swimming pigs remain as a sustainable attraction.
Through a collaborative community effort with other local volunteers, the following initiatives were implemented:
Raised funds to purchase water tanks on the island and developed a guttering system to ensure the pigs receive enough freshwater, even at times when volunteers were not there to refill the tanks.
Built a nursery for the piglets to ensure they obtained proper care and nutrition after birth
Created separate pens for piglets and animals who are ill and need medical treatment, upon which a veterinarian from Nassau provides these services.
Featured signs that communicate rules and regulations to visitors. These consist of how visitors should interact with the pigs. The signage also educates visitors about the types of "pig approved" foods to feed them. These include fruits, vegetables, bread, and pig feed that can be purchased locally.
A trough was installed and acts as a designated place to feed the pigs so that they don't ingest excess sand or saltwater.
In addition to local volunteers in Staniel Cay, Tour Operators who visit the area also look after them admirably by bringing them food and water.
To learn more about the swimming pigs, please call The Exumas Tourist Office at (242) 336-2457.
How do you get to the swimming pigs?
Big Major Cay is only accessible by boat. You can arrive on your private or chartered vessel, or book a boat tour. For enquiries about tour facilities, call The Exumas tourist office at (242) 336-2457
Is it safe to swim with the pigs?
Pigs are docile creatures. We encourage visitors to act responsibly when interacting with our friendly pigs of Big Major Cay.
Which island in The Bahamas can you swim with the pigs?
The famous swimming pigs of The Bahamas are found on Big Major Cay, also known as Pig Beach, in The Exumas.
Can you feed the pigs?
These pigs are no strangers to handouts. Bring along some fresh fruit and you'll have a new best friend, or three!


Discover Your Next Adventure