Welcome to FreeportGrand Bahama Island
The Island
Known to the world as the second-largest city in The Bahamas, Freeport, in Grand Bahama Island developed as a tropical playground for its visitors. Here, you can enjoy a glamorous holiday at an upscale resort, have a life-changing experience visiting cultural and historical sites, and experience the environs of ecological wonders.
Island Resorts & Retreats

Where to Stay
Hotels
FEATURED
From family-friendly resorts to romantic all-inclusives to cosy B&Bs, Freeport boasts accommodations for every budget.
View All
Island insider
The Highlights

Port Lucaya Marketplace
Freeport's waterfront hub for shopping and dining, Port Lucaya Marketplace has everything from fashionable boutiques to Bahamian handicrafts - but it's the live entertainment in Count Basie Square that really makes this colourful open-air marketplace a must-see.
Learn More
The Highlights

Peterson Cay National Park
Just one mile off Freeport's southern shore, 1.5-acre Peterson Cay is the smallest national park in The Bahamas. Reachable only by boat, this compact cay is a favourite for snorkeling and diving, thanks to four distinct reef zones teeming with manta rays, barracuda, and other marine life.
Learn More
The Highlights

Rand Nature Centre
Grand Bahamas' most accessible national park, this 100-acre sanctuary in the heart of Freeport features a 2,000-foot trail winding through coppice, pine forest, and nearly 130 identified plants.
Learn More
The Highlights

Vast Underwater Caves
Dive beneath the surface to explore one of the world's largest underwater cave systems. Special finds of this ancient and cavernous wonderland include Ben's Cave, an inland blue hole that's only accessible in the company of an authorized dive instructor.
Learn More
The Highlights

Lucayan National Park
Home to one of the largest underwater limestone cave systems in the world, this 40-acre park features nature trails and elevated boardwalks winding through all six of the Bahamas' ecosystems, including a mangrove swamp and pine forest. Follow one of these boardwalks to the secluded Gold Rock Beach, known as the island's "welcome mat."
Learn More
At just 55 nautical miles from Florida, West End is the first port of call for most Sunshine State boaters entering Bahamian waters. It's also a first-rate destination for bonefishing and big game fishing. The island's oldest town, it was a hub for smugglers during the American Civil War and, later, served as a Prohibition-era rum-running port.
The Highlights

Gold Rock Beach, The Movie Star
Among Freeport's many idyllic beaches, Gold Rock Beach manages to stand apart. Bring a picnic and spend the day marveling at its movie-set splendor—scenes from Pirates of the Caribbean have been filmed here. Don't miss low tide, when the waters create a ripple pattern on the sand.
Learn More
Things to do
Things to Do

Bring Your Binoculars
Of all the islands in The Bahamas, the second-highest number of native birds are found in and around Freeport — 18 of the 28 species of Bahamian birds not seen in the U.S., Canada, or Europe. Most of them live in the island's national parks.
Learn More
Things to Do

Venture to Owl's Hole
An eco-adventure awaits at this fresh water blue hole hidden in a vast forest of Caribbean pine. Owl's Hole, which takes its name from the barn owls that nest along its rocky ledges, is best reached via ATV. Bring your binoculars; the birdwatching here is excellent.
Things to Do

Grab Your Gear
Opportunities abound for underwater adventures. Divers take their pick from shallow reefs and wrecks, or dives with tiger sharks. But you don't need to be a PADI-certified diver to see the beauty below. Deadman's Reef, the largest contiguous man-made reef, is perfectly suited for snorkeling.
Learn More
Things to Do

Discover The Garden of the Groves
A true nature lovers' paradise, this 12-acre garden is one of Freeport's most popular attractions. Trails wind past waterfalls, lush tropical gardens filled with birds and butterflies, a chapel for weddings and meditation, and a replica of an early Christian labyrinth.
Learn More
Fresh Island Flavours

Drinks & Dining
Restaurants
FEATURED
A true traveller's destination, Freeport offers festive dining with a delicious mix of local and international cuisines.
View All
Hot Off The Press
From dining to deep-sea fishing, discover the places and personalities that make Grand Bahama Island so extraordinary in Grand Life, the Grand Bahama Magazine.
READ THE LATEST ISSUE
map
Freeport- Grand Bahama Island
West End
West End is the oldest and westernmost settlement in Grand Bahama Island. Located only 55 nautical miles from the Florida coast, it is the first Port of Entry for boaters crossing over.
East End
East Grand Bahama is home to Lucayan National Park, its beautiful Gold Rock Beach, and a handful of cays including Sweeting's Cay.
Peterson Cay
Located just off the coast of Grand Bahama Island, Peterson Cay is a protected National Park managed by the Bahamas National Trust.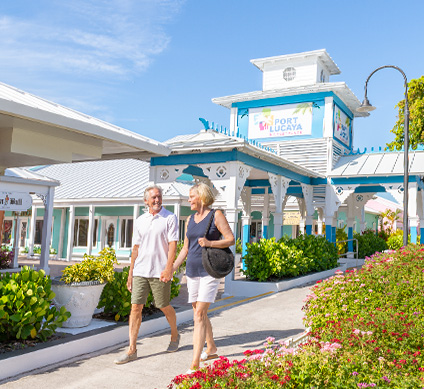 Freeport
Grand Bahama's commercial hub, Freeport welcomes international visitors via the Grand Bahama International Airport as well as Port Lucaya, the second-largest cruise port in The Bahamas.
Grand Bahama International Airport
Located in Freeport, the Grand Bahama International Airport is the second airport in The Bahamas with US Border Preclearance facilities. It welcomes international flights, as well as domestic flights to Nassau and Bimini.
Find a Flight
Discover Your Next Adventure
Freeport - Grand Bahama Island